Ana Vinagre (Fado Singer) was born in the fishing village of Buarcos – Figueira da Foz – Portugal. Very early, she began participating in the church choir and in local Community Playhouses doing stage plays and operettas.
At the age of 13, Ana joined the local Folk Dance Group "CANTARINHAS DE BUARCOS" and toured the entire country of Portugal as well as several European countries at Folk Music and Dance Festivals.
In 1972 married Joe Vinagre, a U.S. Disk Jockey, and set roots in New Bedford, Massachusetts.
In 1978 at the insistence of some friends, Ana began to do the New England circuit of Portuguese restaurants and social clubs singing 'FADO', the traditional folk music from Portugal.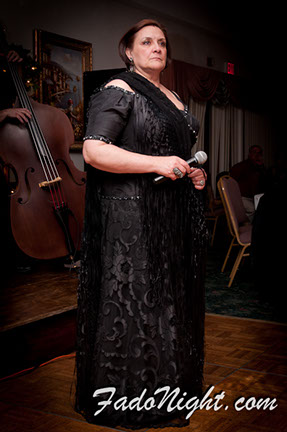 Since then, she has participated in several Folk Music Festivals, representing the Portuguese Art of Singing. Among some of these festivals include:
Northwest Folklife Festival in Seattle, Spring 2003
National Folk Festival, Bangor, ME in 2002
Lowell Folk Festival 1990, 94 & 96
Boston Harbor Revival Folk Festival 1991
International Folk Festival in Boston, U Mass
Dartmouth, Instenstead Folk Festival and
Women Singing Traditions Tour in New England, with 5 women from other traditional music backgrounds sponsored by Traditional Arts Council
Vinagre sang FADO to SOLD OUT events in San José, California, and on April 16 2005 she played to a SOLD OUT audience at The Vermont Cultural Exchange Center. She was also part of the entertainment bill on a trip to Bermuda by the Norwegian Cruise Line.
Other notorious concerts were at Fall River Public Library Winter Concert Opening, the Cambridge Mass. Multicultural Arts Center and Cambridge Boat Club on the Charles River.
"ANA VINAGRE – FADO", was the first record release, which she also produced.
The second CD – PAIXOES – PASSIONS, was released during the PASSION Tour of New England, sponsored by the Center for Cultural Exchange of Portland, Maine.
In September of 2003, she started a FADO – Lecture & Song tour of New England, sponsored by the Mass. Arts Council. Ana was the recipient of the 2003 and 2004 Mass Arts Council Grant for a Fado Apprenticeship Program to teach young singers traditional Portuguese music.
During the summer of 2001, she was contracted as Fado Consultant and participant in the movie for Hollywood, "Passionada", starting Sophia Millos of CSI – Miami.
Since she is fluent in English and Portuguese, Ana is able to interact with non-Portuguese audiences who are not familiar with "FADO". In that respect, she has entertained and lectured throughout New England, West Coast, Canada, and Portugal.
Ana Vinagre has been on the entertainment bill for First Night Festivals in New Bedford, Massachusetts, and Providence, Rhode Island.
In April of 2004 and February 2006, Ana was the top bill for cultural programs sponsored by the Forest Hills Educational Trust.
In August 2005 Ana participated with great success at the Great Lakes Folk Festival, Lansing, Michigan.