Angela Brito – Fadista
Angela was born in November of 1979 to Manuel and Maria Brito. Born & raised in San Pablo, California,
Angela's love of music began blossoming at a very young age. Her father, from São Brás de Álportel, in the region of Algarve, played the Guitarra Portuguesa and shared his passion for Fado with her. Angela has fond memories of hearing the crisp sound of the Guitarra Portuguesa as she watched her father's fingers dancing along its strings. 
He and her mother, originally from the city of Ílhavo, in the Beira Litoral region of Portugal, were actively involved in many Portuguese organizations. They made it a priority to immerse Angela and her brother, Paulo, in all of the rich traditions that they were raised with.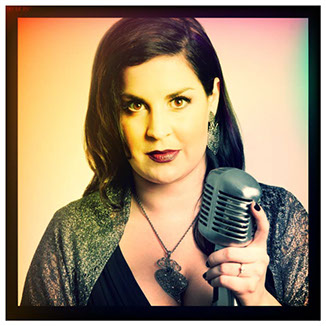 Angela began singing in her school and Portuguese parish's choir and soon discovered that singing was her life's passion.
At the young age of 12, Angela took her passion one step further and began singing professionally.  She and her cousins joined together and formed Harmonía, performing at Portuguese events throughout California.
At 14 years of age, Angela had the most wonderful opportunity to sing Ave Maria at the Basilica in Fátima, Portugal during a trip with her Portuguese school choir. It was a blessed moment that Angela holds dear to her heart.
In 1992, Angela began her career as a Fadista. Even at just 12, Angela was already able to establish a deep, emotional connection to the Fados she performed and she naturally portrayed that connection to her audience.
The public took notice of her talent and, backed by her cousins, Pedro Adão, Victor Adão, and Andre Pio, Angela was invited to perform all over the Western United States and has had the privilege of sharing the stage with many talented Fadistas.
Angela's love of music didn't stop there. She continued singing in Harmonía and then in Nova Geração. Over the years, she has been invited to record with various artists on their respective projects. She is currently the lead vocalist of the talented conjunto, Raça.
Angela's experience in Portuguese music expands beyond Fados and bands. She has been an active dancer in Rancho Folclórico Portugal na California, since her teens. Her parents, along with their siblings, cousins, and friends, founded this Rancho in 1974.  Angela is proud to continue this tradition and to share her family's passion for dance and their Portuguese culture.
The most exciting chapter in Angela's Fado career began when she started performing with Helder Carvalheira, João Cardadeiro, and Manuel Escobar, who make up the brilliant guitar trio, Sete Colinas.
With the guidance and inspiration she continues to receive from Sete Colinas, Angela has cultivated her own distinct style as a Fadista.  She and Sete Colinas recorded her debut album, aptly titled "Fado ~ De Olhos Fechados".  This long-awaited album also introduced Angela as a songwriter.  It was released in 2013.
For more information, please visit:
www.angelabrito.com
www.facebook.com/angelabritofadista