Fadista Humoristico
Jose Ribeiro is known in the Portuguese communities of New England as a humorous fado singer (fadista humorístico). He was born in the freguesia do Capelo, Faial, Azores and came with both his parents and brother to the United States in 1962 at the age of 15. Jose Ribeiro's family settled in Bristol, Rhode Island where Jose now lives.
As a young man, Jose Ribeiro enjoyed telling jokes and singing. Because of his love of music and making people laugh he started singing humorous fado songs (fado Humorístico).
Jose first started singing at Lusitano Restaurant in Fall River, Massachusetts, accompanied by the Irmãos Lima guitarristas (Lima Brothers), and has never stopped since.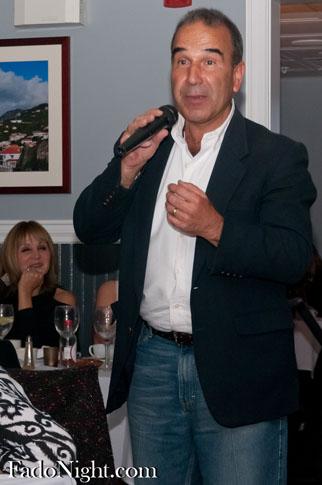 José Ribeiro é muito bem conhecido nas comunidades portuguesas da Nova Inglaterra como um fadista humorístico. Ele nasceu na freguesia do Capelo, ilha do Faial, Açores e veio com seus pais e irmão para os Estados Unidos da America em 1962 com 15 anos de idade. A família Ribeiro estabeleceu-se em Bristol, Rhode Island, onde José vive agora.
Quando jovem, José Ribeiro gostava de contar piadas e cantar. Por causa de seu amor pela música e fazer as pessoas rirem, ele começou a cantar fados humorísticos.
José começou a cantar no Restaurante Lusitano em Fall River, Massachusetts, acompanhado do Lima Irmaos guitarristas (Lima Brothers) e nunca parou desde então.
José Ribeiro can be contacted at: 401-529-0432