Fadista

Luis Ferraz was born in Lisbon, in the Alfama district, on January 6, 1957.
He currently resides in Canada in the city of Hamilton, Ontario, since 2006.
He has liked the fado since he was a young man. His inspiration was and will
always be the fado. In the house where he was born and raised. in Alfama, Luis
only heard fado.
Luis Ferraz looks forward to singing more fado and realizing his boyhood dream
of SINGING FADO until God permits.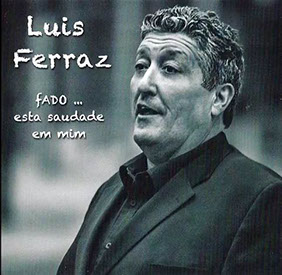 Luis Ferraz nasceu em Lisboa, no Bairro de Alfama, a 6 de Janeiro de 1957.
Actualmente reside, no Canada na cidade de Hamilton, Ontario, desde 2006.
Desde jovem que gosta de Fado. A sua inspiração foi e será, sempre o fado.
Na casa onde nasceu e se criou, em Alfama, só se ouvia Fado.
Luis Ferraz espera poder cantar cada vez mais em varias casas de fado e poder
realizar um sonho de menino. CANTAR O FADO até que DEUS permita.
____________________________