Fadista
Rosa Maria, a well-known singer in Portuguese communities throughout New England, was born in the Porto Judeu parish on the island of Terceira, Azores, Portugal.
She started her artistic career while still living in the Azores. where she performed in dances and carnival bailhinhos as a member of the Brianda Pereira Society of  Porto Judeu in Terceira.
Rosa Maria emigrated to the United States and started her US career singing at Lusitano Restaurant in Fall River, MA where she sang for 5 years. She currently lives in Rehoboth, Massachusetts.
Rosa Maria sings fado, regional music, popular songs, marches, and more.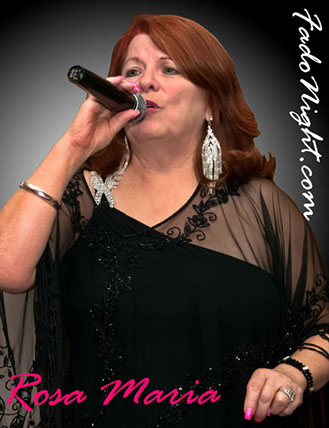 Português:
Rosa Maria, uma fadista bem conhecida nas comunidades Portuguesas de Nova Inglaterra nos EUA, nasceu na freguesia de Porto Judeu na ilha da Terceira, Açores, Portugal.
Comecou a sua carreira artistica nos Açores. Participava em danças de carnaval e bailhinhos na Sociedade Brianda Pereira do Porto Judeu.
 Rosa Maria emigrou para os Estados Unidos da America aonde lancou a sua carreira cantando no  restaurante Lusitano em Fall River, MA durante 5 anos.
 Hoje a Rosa Maria  canta o fado, música regional, cançōes populares, marchas e mais.
 Rosa Maria can be contacted at 508-336-5256